NEED HELP DECIDING?
With our simple and straightforward process, you can create effective packaging with beautiful designs. Creating a custom pouch is simple, but it entails some important decisions – we want to make it easy for you!
Unsure which pouch is right? Order our Free Sample Pack.
GET STARTED
Don't worry – designing beautiful packaging is possible. Consider these questions to help get your creative juices flowing: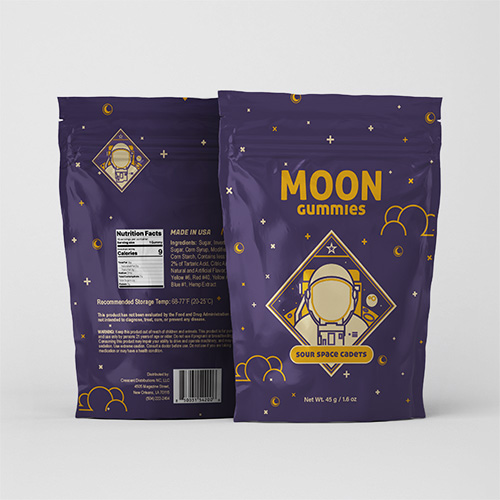 Stand-Up Pouches are designed to stand on their own on a retail shelf, and they are commonly used for packaging large or bulky products.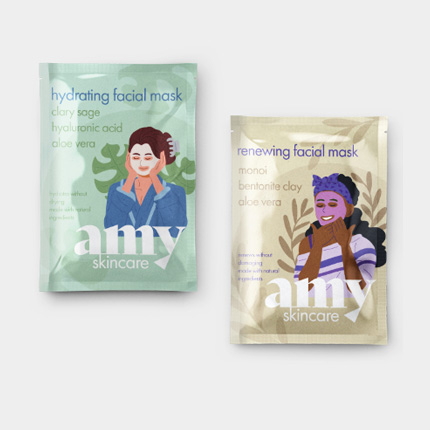 Lay-flat Pouches are also referred to as 3-side sealed pouches, pillow pouches, or just simply flat pouches. They are commonly used for packaging small or flat/thinner products.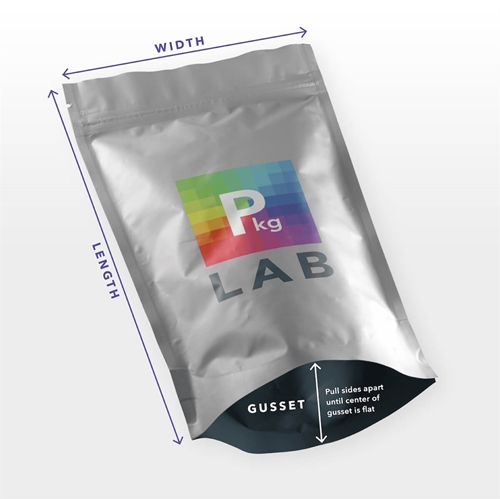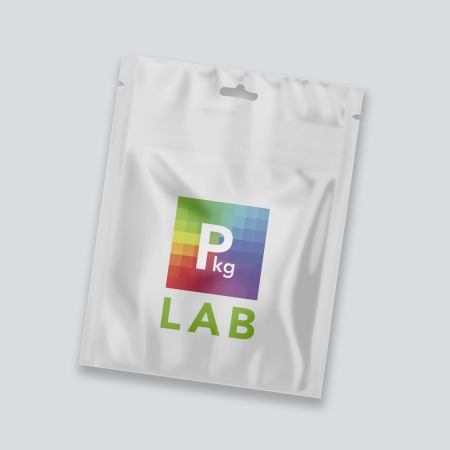 Stand - Up Pouch Sizes
| | |
| --- | --- |
| S1  3.25" x 4.75" x 2" | S7  6.75" x 8.5" x 3.5" |
| S2  4.375" x  6" x 2" | S8  7" x 9" x 3" |
| S3  5" x 6.5" x 2.5" | S9  7.25" x 6" x 2" |
| S4  5" x 7" x 3" | S10  8.125" x 10" x 3.5" |
| S5  5.75" x 7.5" x 2.5" | S11  9.875" x 10.5" x 3" |
| S6  6.5" x 8" x 2.5" | S12  12" x 12.5" x 3.5" |

Lay - Flat Pouch Sizes
| | |
| --- | --- |
| L13  3.25" x 4.5" | L17  5" x 7" |
| L14  3.375" x 5.5" | L18  6" x 7" |
| L15  4" x 6" | L19  7" x 9" |
| L16  5" x 5.5" | L20  7" x 12" |
Download the dielines here.
Pouch dimensions are listed as Width x Height x Gusset (for Stand-Up Pouches) or Width x Height (for Lay-Flat Pouches)
Dimensions are listed for the outside of the pouch
Please order a free Sample Pack to determine the most accurate pouch size. The sample pack includes one of each size pouch we offer.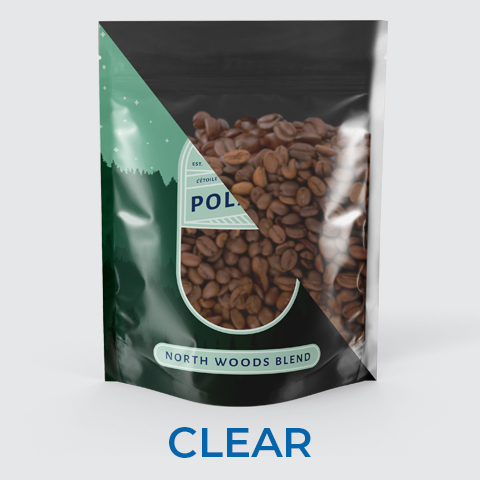 Do you want or need your pouch to include a window? Choose CLEAR film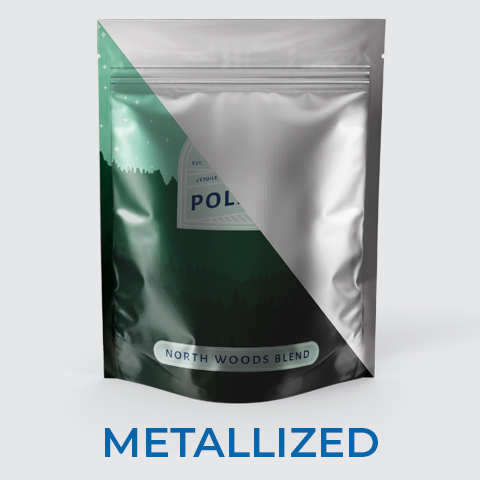 Do you want the inside of your pouch to be silver? Choose METALLIZED film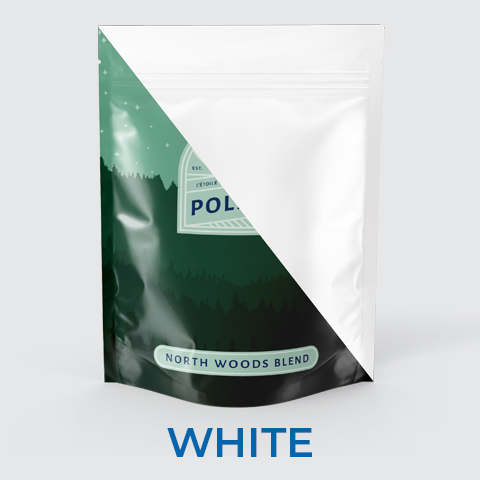 If neither scenario is relevant, you should opt for our most popular material. Choose WHITE film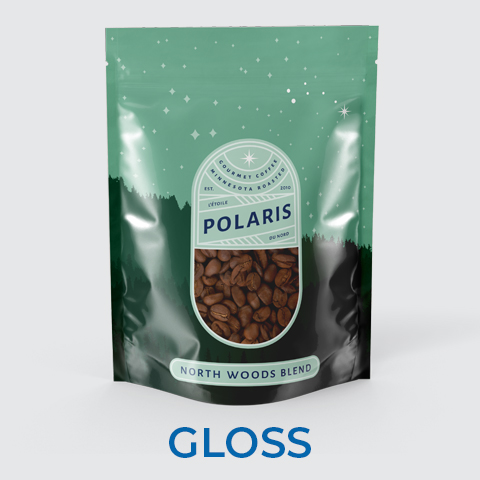 Do you want your pouch to have a shiny appearance? Choose GLOSS finish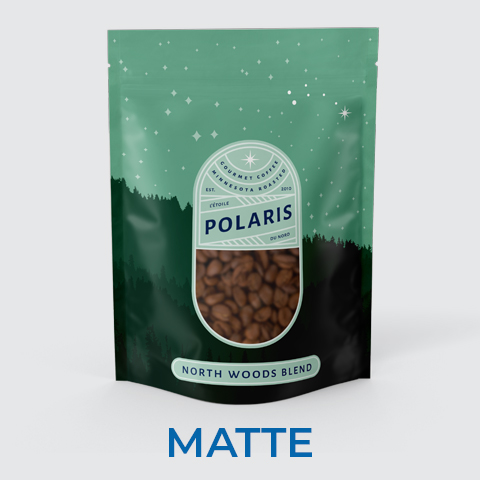 Do you want your pouch to have a frosted appearance with no shine? Choose MATTE finish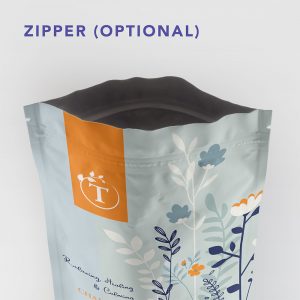 Will your pouch be for a multi-use product? Will it need to be reclosed after it's initially opened? Add the zipper option
Will your pouch be for a one-time usage? Is your customer likely to discard the pouch immediately after your product has been removed? Do not add the optional zipper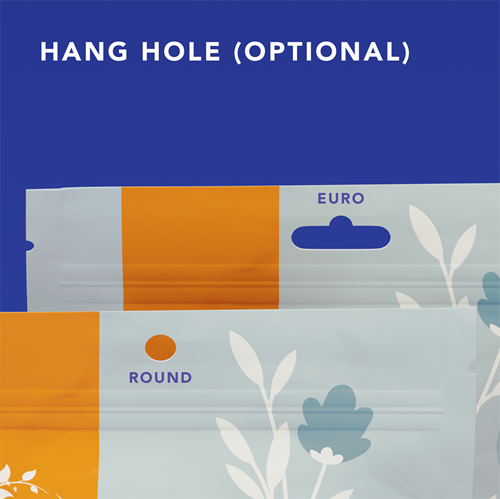 Will your pouch be merchandised from retail peg or hook? If so, then you will want to add a hang hole. We offer two options: round and euro style (sometimes called sombrero style)
Is your product relatively heavy or does the retailer use loop-style hooks? If so, add a euro style hang hole. Otherwise, a round hang hole is the most commmon.
If the above does not apply to you, you do not need a hang hole on your pouch.
PLEASE NOTE: The euro hang hole is not available on all sizes of pouches.
Please see Artwork Specifications for more information.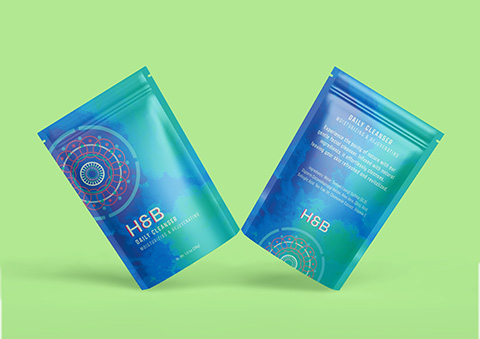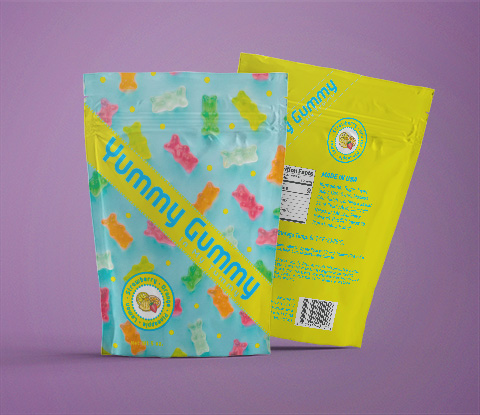 Calculator only calculates between 1 and 10,000 pouches. For any order over 10,000 pouches please contact us.

If you do not see your quantity in the drop down bar on the order page, you can change your quantity on the checkout page.

Multi-SKU discounts will automatically apply on the checkout page. All attributes (Hang Hole, Zipper, etc.) must match for this to be applied.
Pouch Pricing Calculator
Get an instant price on your pouch order.
Do you want to order multiple versions of your pouch?
For more info click HERE
Ready to order? Click Here
Size W x L x Gusset (in)
Zipper
Hang Hole
Quantity
Productions Days
Number of Designs
CHOOSE YOUR PRODUCT
Choose between two different styles of pouches or rollstock film – there's an option for everyone!
Stand-Up Pouches
A Stand-Up pouch includes an expandable gusset on the bottom that allows it to stand up on its own.
Lay-Flat Pouches
Also called a flat pouch or a 3-side sealed pouch.
Custom Rollstock Film
Used for a variety of products such as: drink powders, granola bars, nuts, seeds, candy bars or anything your heart desires.